the winx club one of my favorite shows. winx club is about six fairys name stella,musa,tecna,flora,aisha,bloom and one of their friends roxys. they have boyfriends who protect the girls  from evil and help fight evil off and to protect the schools from evil their names are sky (bloom),brandon (stella),riven (musa),heila (flora),timmy (tecna),nebua (aisha) and nebua sacrifice's his life for his friends from the wizard of the black cricle and he saved aisha from vatlor. they fairys go to a school called alfea.The boys go to a school called redfountian and their are eight dimensions name melody is musa home planet,Omega dimension is a 
Dimension
 that is a frozen 
dimension
 that serves as a prison for evil,
Solaria
 is Stella's home planet and 
The Ring of 
Solaria
 (also called the Sword of Power) is a magical ring that belongs to Stella,
 Linphea is flora 
home
 planet and it is home to  many flowers and plants,
domino is bloom home planet and The planet was revived by Bloom and her friends (minus Nabu) in the movie 
Winx Club
: The Secret of the Lost Kingdom. 
Andros is aisha home planet,
Zenith is tecna home planet. Magix.
Eraklyon home to prince sky.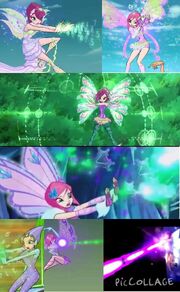 Ad blocker interference detected!
Wikia is a free-to-use site that makes money from advertising. We have a modified experience for viewers using ad blockers

Wikia is not accessible if you've made further modifications. Remove the custom ad blocker rule(s) and the page will load as expected.