Some scientists (starting in 2010) consider Torosaurus fossils to simply represent mature 
Triceratops
after their frills had extended, but later research (2011 and 2012) seems to prove otherwise.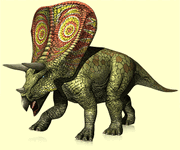 General Statistics
Edit
Dinosaur King StatisticsName: Torosaurus latus
Name Meaning: Perforated Lizard
Diet: Herbivore
Length: 8-9 meters (26-30 feet)
Time Period: Late Cretaceous
Classification: Ceratopsidae --> Chasmosaurinae -->Triceratopsini
Place Found: North America
Describer: Marsh, 1891
Move Cards Attribute: Lightning
Shoot lightning from your horns at your opponent! It combined its Lightning Strike with Chomp's to defeat Terry.
TCG Lores
Edit
Coward

You cannot Dino Slash this Dinosaur unless you already have 2 Dinosaur in play.

Recharge (Wandering Torosaurus)

Instead of attacking with this Dinosaur, you can let 1 of your other Lightning Dinosaurs in play attack again this turn.

Stun (Wandering Torosaurus)

Dinosaurs that battle with this Dinosaur lose all their abilities during the battle, and any effects from those abilities after the battle are negated.

Stun of the Pack/Pack Stun (Energetic Torosaurus)
Ad blocker interference detected!
Wikia is a free-to-use site that makes money from advertising. We have a modified experience for viewers using ad blockers

Wikia is not accessible if you've made further modifications. Remove the custom ad blocker rule(s) and the page will load as expected.