"When she breaks the tender peel, to taste the apple in my hand, her breath will still, her blood congeal, then I'll be fairest in the land!"
―The Evil Queen on her plans to poison Snow White
The Evil Queen, also known as the Wicked Queen or just the Queen (and sometimes instead identified by name asQueen Grimhilde) is the main antagonist of Disney's 1937film Snow White and the Seven Dwarfs, and the first Disney animated features canon villain. Determined to remain the fairest of all, the Queen becomes insanely jealous of Snow White, the only one whose beauty surpasses her own. She eventually uses dark magic in the form of an aging potion to transform herself into the Witch, in a final attempt to do away with her only, unknowing rival. Depicted in early designs as a fat character, her appearance eventually evolved into a much more sinister, stately beauty. She is generally one of Disney's most iconic and menacing first villains, once being voted the 10th greatest movie villain of all time. The Queen was animated by Art Babbitt and the Witch by Norman Ferguson. Both were voiced by veteran actress Lucille La Verne. Although they are technically the same character, official materials such as the 1993 Disney Classics card set have depicted them as being different entities.
Her name was given as Queen Grimhilde in some old publicity material and comics, but the Walt Disney company does not seem to acknowledge it as canon anymore. She is sometimes referred to as the Wicked Queen, while theme parks sometimes refer to her as the Snow Queen (Not to be confused with Elsa the Snow Queen). The Witch is sometimes referred to as the Old Hag after drinking the aging potion.
The Evil Queen is, along with Maleficent, one of the most prominent of the Disney Villains.She and the Good King are the parents of Raven Queen.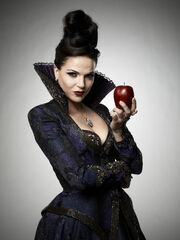 "mirror mirror on the wall,who is the baddest of them all"
Ad blocker interference detected!
Wikia is a free-to-use site that makes money from advertising. We have a modified experience for viewers using ad blockers

Wikia is not accessible if you've made further modifications. Remove the custom ad blocker rule(s) and the page will load as expected.